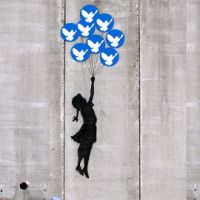 We are a group of peace activists from Israel and Palestine. Some of us have been working together for more than 10 years. We seek to bring hearts and minds closer through encounters. This mostly leads to mutual recognition and understanding. We have been suffering from fears, tensions and violence for as long as we can remember. For 50 years, on both sides, children have grown up with hatred, fear and prejudice.
We sometimes simulate negotiations and attempt to confront the difficulties, the fears and the stories - big and small - that each of us experienced as an individual and as national groups, living immersed in a deep, long and bleeding conflict.
Many Palestinians live half an hour near the sea-side and have never seen it. The occupying army humiliates the Palestinians and often arrests, injures or kills them. In Israel a 'normal' everyday life is possible, but nearly everyone is deeply afraid of being surrounded by enemies. The memory of the 'Second Intifada', when many Israelis were killed by suicide bombers, is kept in the mind.
In the seminars it is hardly possible to clarify the question of guilt. But for all of us is clear: We are tired of war and want to live in peace. In a meeting at the end of February we worked out a joint resolution and wanted to collect signatures on both sides in early March. But then Corona paralyzed the public life.
In the shadow of the pandemic and in the twilight of President Trump, in Israel a grand coalition was decided. Mr. Netanyahu was protected from corruption charges by his political competitor Mr. Gantz. Strange!
Some days later they decided against international law to annex large parts of the Palestinian territory. Incredible!
We are afraid! - What can we do?
Please sign the joint peace-appeal and spread it widely: If we have enough signatures we will send the appeal to politicians and international institutions.
Please support our work. Donate to "Courage gegen Rassismus"
Evang. Bank Germany
Iban: DE43 5206 0410 0005 0067 59
Swift / Bic: GENODEF1EK1